Parex Bridge for Shopify & Xero
Use Parex Bridge with Xero to manage your Shopify store accounting
Parex Bridge is a simple & easy to use app to Integrate your Shopify data to your Xero account with ease.

Get Parex Bridge Try Xero for Free
When an order is synced from Shopify to Xero, all order information such as Customer, Line Items, Taxes, Shipping, etc will be synced.
We aim to provide realtime sync of your data to Xero or prefer to do it manually at your convenience.
You are ready to sync your data with just a few clients. Install our app, sit back and Relax.
Sync your Shopify data with your Xero online account automatically with our Parex Bridge app for Shopify. Our app will sync all your Customers, Products, and Orders from Shopify to Xero. You can choose to do it automatically or initiate it yourself.
Export all your Orders, Products & Customer data to Xero Automatically. You can choose your data to Xero automatically or prefer to do it manually at your convenience.
You may have prepaid orders, or might have orders for which payment will be received later. With your app, you do not have to worry about. The Order sync will happen as it is in your Shopify account. If a payment is received later on, it will be updated in Xero at that time. Also, cancellations & refunds are synced appropriately.
You may choose whether you want to create an individual customer in Xero for all your Shopify customers or you can select to sync all orders under one dummy customer. If you select the former, all your customers are entered into Shopify as well during the sync.
Install our app, sit back and Relax.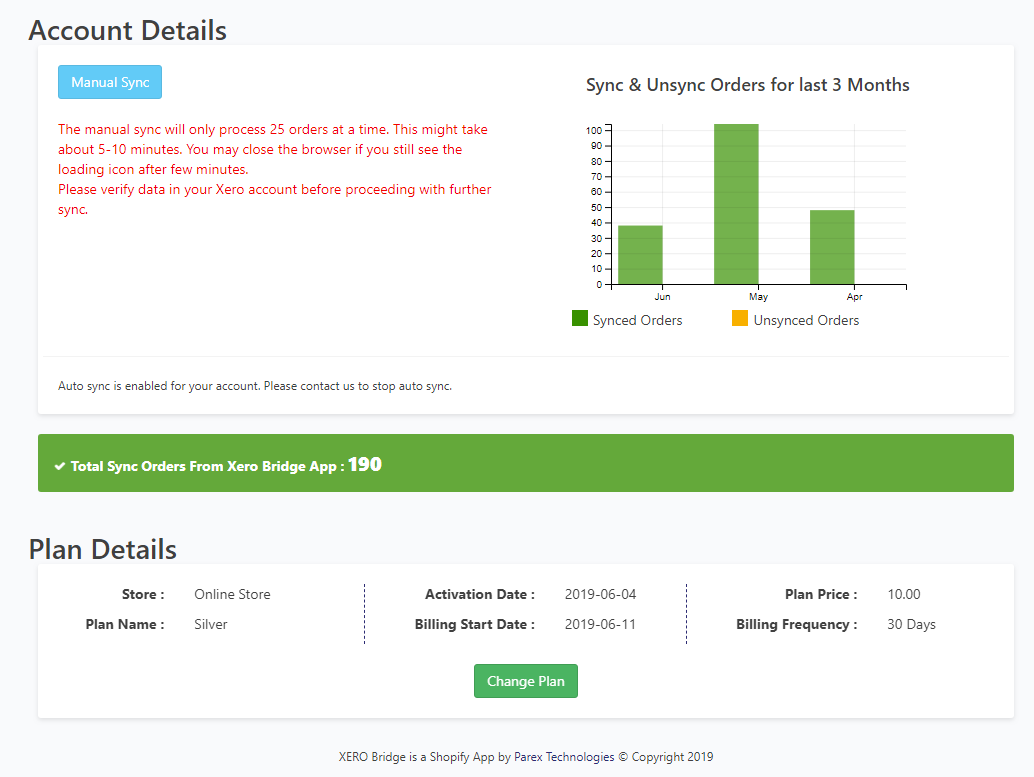 Now, you can also sync all your products and have a replica database in Xero exactly like Shopify. The Product sync also happens regularly if automated, or else whenever initiated manually.
We have you covered. We will even sync the Tax lines & Shipping line items to your Xero Account.
This app is suitable for stores based in or charging in currency for the following countries: United States, Canada, United Kingdom, Australia & New Zealand.
Xero is world-leading online accounting software built for small business
Get a real-time view of your cashflow. Log in anytime, anywhere on your Mac, PC, tablet or phone to get a real-time view of your cash flow. It's small business accounting software that's simple, smart and occasionally magical.
Run your business on the go. Use our mobile app to reconcile, send invoices, or create expense claims - from anywhere.
Get paid faster with online invoicing. Send online invoices to your customers - and get updated when they're opened.
Reconcile in seconds. Xero imports and categorises your latest bank transactions. Just click ok to reconcile.
More about how Parex Bridge and Xero Integrate
Two way data syncing ensure your back office and accounting teams are always up to date. giving you realtime oversight of how your business is doing.
Syncing data is effortless and realtime, drive your business and always be in control of your business data.
"Amexi Distributions"
"I love it! It made my life so much easier and the support team is just amazing! Would definetly recomment anyone to swich to them because I did and I just wish I did it earlier!"





Shopify Marketplace Rating